Chirk Castle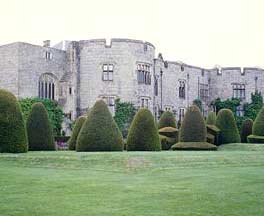 Chirk Castle
is a magnificent stone 13th century quadrangular fortress and is one of the
great Marcher castles
. The high curtain wall is flanked by massive half round towers, with drum towers at the corners but sadly there is no trace of the original south side, that side is now a range of Tudor lodgings.
Chirk Castle
, occupied virtually continuously as a castle and stately home for almost 700 years, sits on a hilltop with its best views over the Ceiriog valley to the south. The castle may have originally been envisaged as a rectangular enclosure with towers at the corners and halfway along each side. If so, only the northern half of the design survives, stopping beyond the central towers on the east and west. The simple gate through the eastern part of the north wall is probably original. Additional outer defences were dismantled during later landscaping.
Chirk Castle
was built in 1310 as one of a string of defensive fortresses against the defeated Welsh. It is on a natural strongpoint with the river below on two sides and a view across up to 14 neighbouring counties. It has long been converted to a comfortable home lived in by the Myddleton family since 1595.
Other Attractions of England