Cardiff Castle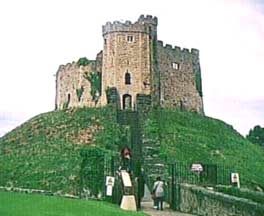 At first glance, Cardiff's city center seems an unlikely place to find a castle. The
capitol of Wales
is a typical city, busy, laden with traffic, shoppers searching for a good buy. Government buildings glisten in the sun. The
National Museum of Wales
offers impressive exhibits of Welsh history and cultural development. However, in the midst of this urbanization, Cardiff's ancient past is grandly displayed, in the form of a fine castle. The Castle of Cardiff rises in the center of the modern Capital of Wales. Its main particularity is that in no other building of Great Britain cohabits therefore many architectonic styles of various ages. The construction is the combination of a Roman fort, a classic Norman fortress "
Motte-and-Bailey
" and of the gothic-Victorian restoration operated in the half of the nineteenth century.
Built on the site of a Roman fort dating back 2,000 years, Cardiff Castle was extensively rebuilt by the Marquess of Bute in the 1970s. The Clock Tower, started in 1869, was built from a dark Caerphilly stone and fashioned in a robust French Gothic style by Gothic Revival architect William Burges. The castle interior is lavishly decorated inside with beautiful stained glass windows, sculpture, marquetry and stonework.
Other Attractions of England