Kensington Palace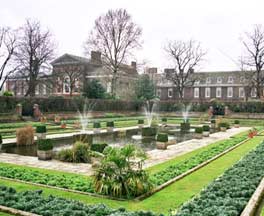 Kensington Palace
stands at the western end of
Kensington Gardens
and is perhaps the finest building in the Borough. Originally called Nottingham House, it passed into royal ownership in 1689 when it was acquired by William and Mary. Queen Victoria spent her childhood at Kensington Palace and it was here in June 1837, that she learned of her accession to the throne. Inside the Kensington Palace, there remains Kensington Gardens covering 111 hectares (275 acres) and was originally part of Hyde Park. Kensington Gardens, with its magnificent trees, is a perfect setting for Kensington Palace. The peace of the Italian Gardens within this park is in sharp contrast to the openness and activity of Hyde Park a short walk away. Outside Kensington Palace stands a statue of Queen Victoria sculpted by her daughter, Princess Louise, to celebrate 50 years of her mother's reign.
Stay at London Hotels rate start from $57 onward
Parts of the Palace remain a private residence for members of the Royal Family; the State Apartments and Royal Ceremonial Dress Collection are open to the public.
Other Attractions of England