Queen's Gallery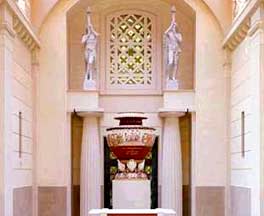 The Queen's Gallery
is also one of the major tourist's attractions in London. Located within Buckingham Palace, the Gallery is a showcase of the extensive royal collection of over 9,000 works of art displayed in the royal palace.
The original gallery was built out of the ruins of Queen Victoria's former private chapel on the west front of Buckingham Palace which was destroyed in an air raid in 1940. At the suggestion of The Queen and The Duke of Edinburgh it was redeveloped as a gallery and was opened to the public on 25 July 1962.
Re-opened in 2002 as one of the key events of the Golden Jubilee, the gallery now claims three-and-a-half times more display space and features changing exhibitions of art from the Royal Collection. The £10 million expansion programme, which has provided the gallery with much needed new space, was successfully completed in time to open for the Queen's Golden Jubilee celebrations.
Stay at London Hotels rate start from $57 onward
Other Attractions of England