London Eye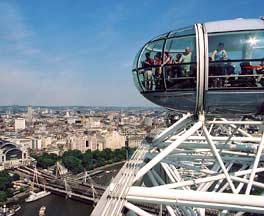 The British Airways
sponsored London Eye, billed as the world's highest observational wheel. The Eye stands a whopping 135 metres high on the South Bank between Waterloo and Westminster Bridges, right opposite Big Ben and the
Houses of Parliament
and provides stunning views over central London and beyond. Tourists are treated to a gently paced half-hour ride in space age capsules holding 25 people each, hopping on and off as the wheel moves. An increasingly popular idea is to visit the Eye at night time when the view is perhaps at its most magical. It is well worth booking tickets in advance as tickets are not always available on the day and even if they are, the queues can be daunting.
Stay at London Hotels rate start from $57 onward
People of all ages from around the country are making special journeys to see this new and exciting giant Wheel and to participate in the excitement of being transported high above London. Tourists to London from abroad, are delighted by this new and novel way of seeing the city from a birds eye view. As the London Eye is set in motion, you will feel a keen sense of anticipation. The higher it soars, the more celebratory the experience becomes, as you enjoy the breathtaking views from the heart of the city.
Other Attractions of England