St. James Palace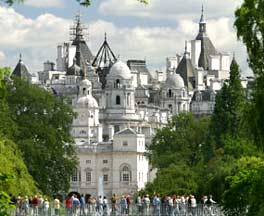 The senior Palace of the Sovereign and still the 'Court' to which foreign Ambassadors and High Commissioners are accredited,
St. James's Palace
was built between 1532 and 1540 by Henry VIII on the site of the Hospital of St. James, Westminster. The palace environs include Clarence House, the residence of the Queen Mother, the Queen's Chapel and the Chapel Royal, where the late Princess of Wales's body lay in state until her funeral in Westminster Abbey. Queen Anne first brought the royal court to St James Palace in 1702, following the disastrous fire that destroyed Whitehall Palace in 1698. For over 300 years it has remained as the official residence of the reigning monarch although, since the accession of Queen Victoria, the Sovereign has lived at Buckingham Palace. Tthe court of St. James' still remains the official title to which foreign ambassadors and commissioners are accredited.
Today the palace is the main residence of Prince Charles,
the Prince of Wales
, and Princess Alexandra and Sir Angus Ogilvy, as well as the headquarters of many royal associations. Because of this St. James Palace is not open to the public.
Other Attractions of England