Millennium Stadium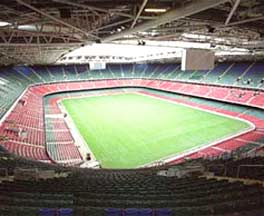 The
Millennium Stadium
is located on Westgate Street in Cardiff; next to the Cardiff Arms Park, the rugby ground of Cardiff RFC and the Cardiff Blues.
It is currently the largest football ground in the UK with a capacity of 74,500. It will relinquish this distinction when the rebuilding of Webley Stadium in London, although Manchester, may be expanded to beyond the
Millennium Stadium
's capacity before then. The stadium is owned by the Welsh Rugby Union (WRU). The all-seater stadium has the capacity for 74,500 supporters and features a retractable roof (only the second stadium in Europe, and the biggest in the world, with this feature) to protect the playing surface from the elements.
As well as international rugby union and football, the Millennium Stadium has hosted a variety of sports, including Rugby League (Including challenge cup finals and Welsh Rugby League internationals) speedway and indoor cricket.
Other Attractions of England