National Wax Museum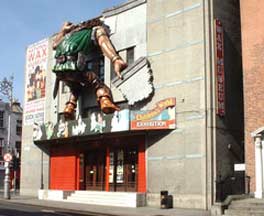 The
Wax Museum
is situated minutes from
Parnell Square
in a former prayer hall turned cinema. There are so many figures to see, from historical to mythological, and world famous to national heroes. Kids will thoroughly enjoy the "Children's World of Fairytale and Fantasy".
The main section of the wax exhibition broadly reflects the historical and cultural development of Ireland. Here you will find life sized figures heroes, together with the literary figures: Joyce, Yeats, and their contemporaries. A particularly attractive feature is the life-size replica of Leonardo de Vinci's '
Last Supper
'. Displays have an informative and educational narrative which can be heard at the touch of a button. The Chamber of Horrors is for the brave. In the Hall of Megastars, patrons will meet the stars of the glittery world of rock and roll in the form of: Michael Jackson, Madonna and all time great Elvis Presley. The entire family can learn and enjoy the main section of the Wax Museum that reflects broadly on the historical and cultural development of Ireland.
The National Wax Museum
offers an enjoyable outing for families and kids in Dublin.
Other Attractions of England