Clydebuilt Scottish Maritime Museum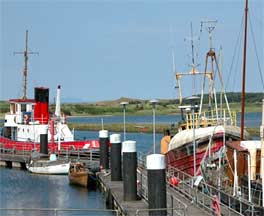 Scotland has for many centuries been a seafaring nation whose role and influence on the world's oceans has been out of all proportion to its size and population. This heritage is reflected in the exhibitions and collections of the
Scottish Maritime Museum
. The Museum operates from three sites on the Clyde and its estuary. Clydebuilt at Braehead tells the story of the Clyde shipbuilding industry, while the Denny Ship Model Experimental Tank at Dumbarton brings to life the world of the Victorian ship designer. Scattered along the south shore of the
River Irvine
are the various parts of the museum. It is based in the vast brick-built steel-framed Linthouse Engine Shop. This houses the museum reception and shop, together with a range of indoor exhibits: plus large numbers of the engines from which it gets its name. It comes as a shock when you read the literature and realise that this building has only stood here since 1991: having previously been dismantled and moved from the Linthouse Shipyard in Govan.
The museum is home to
M.V. Kyles
, the oldest Clydebuilt vessel still afloat in the U.K. She is now moored only minutes away from where she was built by Fullerton's of Paisley in 1863. Kyles is a rare survivor, a representative of Clyde shipbuilding dating from the 1870s - a period of expansion of shipbuilding on the west coast of Scotland and in Glasgow.
Other Attractions of England