TOUR 90 - STRATFORD Overnight Tour
SHAKESPEARE COUNTRY: OXFORD , SHAKESPEARE'S STRATFORD & WARWICK CASTLE - OVERNIGHT IN STRATFORD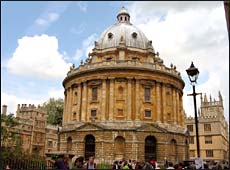 Highlights include:
Professional Blue Badge Guide
Quads and courtyards of Oxford Colleges
Stratford-upon-Avon and Shakespeare's birthplace
Medieval Warwick Castle
Stay overnight in 3 star hotel Stratford Town Centre (breakfast included)
We begin our day travelling across the Chiltern Hills to Oxford, the 'City of Dreaming Spires ', whose hushed courtyards and elegant, dignified timeworn buildings have inspired generations of scholars (including Bill Clinton in the 1970s!). Find your own inspiration in the sense of tradition and intellectual curiosity that pervades this lovely City - you'll see Christchurch College, where Harry Potter scenes were filmed and where Albert Einstein studied - bring your camera! On your walking tour of Oxford you'll see the Bodleian library and the picture-perfect College courtyards for which Oxford is justifiably famous.
We then travel through the rolling Warwickshire hills to Stratford-upon-Avon, a market town at the edge of the Forest of Arden, made famous for being the birthplace of the world-famous playwright William Shakespeare. We'll visit the Tudor-style birthplace of William Shakespeare, gaining a fascinating insight into his childhood with its typical parlour, bedrooms, kitchen, buttery and of course the glove-maker's workshop used by John, Shakespeare's father. There'll be time to explore this charming market town, the streets lined with unusual shops and boutiques.
We'll take you to your 3 star Hotel in Stratford Town Centre near all the major bars, cafes and restaurants so that you can enjoy your evening in Stratford taking in a play at one of the theatres, or strolling through the pedestrian-friendly town centre and enjoying a meal out at one of the many restaurants. The next morning, after breakfast at your hotel you spend the morning in Stratford where the choice is yours - visit Hall's Croft, the home of Shakespeare's daughter, or the comprehensive exhibition adjacent to the Birthplace or stroll along the banks of the River Avon by the Bancroft Gardens.
Your coach will pick you up, and then it's a short drive over to Warwick Castle, most of its magnificent towers and ramparts still intact. Warwick Castle will take you back through its 1,000 year history as you enter over the footbridge to a bygone world of banquets, battles and ceremony. Visit the Tussaud's waxworks, or if you're feeling brave, visit the spine-chilling dungeons where prisoners were tortured! You might wish to stroll through the Castle's delightful and lovingly tended gardens set in the peaceful surroundings of England's finest medieval Castle. During the summer months, archery, falconry and jousting take place.
In the afternoon we'll then take you back to London.
All entrances on first day included
DAYS OF OPERATION:
ALL YEAR - DAILY
DAY 1, MORNING STRATFORD
AFTERNOON / OVERNIGHT STRATFORD
DAY 2, MIDDAY PICKUP, WARWICK CASTLE AND RETURN TO LONDON
TOUR STARTS:
08:45 - VICTORIA COACH STATION
TOUR FINISHES:
18:45 - FOLLOWING DAY – VICTORIA
Click Here to Book Now