TOUR 88 - BATH Overnight Tour
THE WEST COUNTRY: WINCHESTER , STONEHENGE AND GEORGIAN BATH , OVERNIGHT IN BATH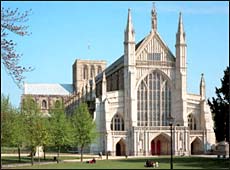 Highlights include:
A magnificent view of Winchester Cathedral
Alfred the Great Statue
Stonehenge
Georgian Bath panoramic tour
Roman Baths AND pump Room.
Stay overnight in 3 star hotel Bath City Centre - Breakfast included.
We start the day making our way across the chalk downs of Hampshire to Winchester, a delightful city that basks in an atmosphere of beauty, antiquity and tranquility! You'll see the mighty 11th Century Winchester Cathedral, the site of the burial of generations of Wessex Kings, their stories lost in the midst's of time and overshadowed by the Norman Conquest of 1066. Winchester was once a major fortification against the Vikings and King Alfred the Great who was buried at Winchester in 899 is commemorated in a magnificent statue in the City centre that has become a landmark in itself.
Going even further back in time we then make our way through the rolling Wessex landscape to Stonehenge, a collection of stones dragged 5000 years ago to this lonely windy plain near Salisbury. Who built it? Why? These questions have haunted the minds of centuries of scholars, but what we do know is that Stonehenge must have had some astronomical function. Set in a landscape dotted with prehistoric mounds and carvings, Stonehenge continues to enthral the imagination and captivate the heart of every visitor, just as it will yours. You'll have the opportunity to walk around these magical stones and contemplate the landscape in which they were built so many centuries ago.
We then make our way to Bath, the jewel of the West Country and a City famous for its elegant Georgian architecture and greenery. Enjoy a panoramic tour of Bath - you'll be enchanted by its beautifully proportioned streetscapes and lovingly cultivated flowerbeds that are a feast to the eye at every turn. You'll see the 'lantern of the West' Bath Abbey, the often-photographed Pulteney Bridge, modelled on the Florentian Ponte Vecchio, and the marvellously symmetrical and perfectly proportioned Georgian Crescents that helped make Bath so famous. During the tour we'll visit the Roman Baths that made the City famous, the best preserved Roman spa from the ancient world stunningly restored during the Victorian era.
Your 3 star Hotel is centrally located so you can choose your evening's entertainment in Bath knowing you'll be near the main theatres, cinemas, cafes, bars and restaurants. After breakfast at your Hotel you can spend the next day in Bath exploring the City's streets and appreciate the Georgian town planning in more detail - you might want to visit the Jane Austen Centre, the interior of the Abbey, or the Book Museum to name but a few of the many attractions in Bath. We'll meet you in the City centre in the afternoon to take you back to London.
All Entrances on the first day included.
| | |
| --- | --- |
| DAYS OF OPERATION: | ALL YEAR – MON / TUES / WED / THUR / FRI |
| TOUR STARTS: | 08:45 – VICTORIA COACH STATION – DAY 1 |
| TOUR FINISHES: | 18:45 – VICTORIA - FOLLOWING DAY |
Click Here to Book Now