TOUR 37P- Full Day Rail Tour Fully Escorted
AN ESCORTED DAY IN PARIS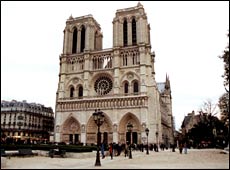 A day trip to Paris by Eurostar ! Check in by 0630 at the Britainshrinkers Desk on the main concourse at Waterloo International Station.

Your guide will give you your Travel Pack containing all the tickets you need for the day. You'll speed through Kent, the ' Garden of England ', then after 20 minutes under the Channel the train whizzes through the Normandy countryside arriving in Central Paris in just 2hours 40minutes.

Once you arrive at Paris's Gare du Nord Station you're right there in the centre of town. Your guide will show you to the waiting coach for a fully guided coach tour of the city including the Champs-Elysees, Arc de Triomphe, Notre Dame and the Eiffel Tower where an escorted visit the 2 nd Level is included.

In the afternoon you are free to shop and explore independently or with your guide. You may choose to visit the Louvre, take a river cruise or just sit in one of the cafés Paris is famous for and watch the world go by.

Your return Eurostar journey departs Gare du Nord at 19.19 local time. Arriving back at Waterloo International just before 21.00 again your guide will be on hand to help.

DAYS OF OPERATION:
April-Oct & Mar Mon/Wed/Fri/Sat
Nov-Feb Mon/Wed/Sat
TOUR STARTS:
06:30 – EUROSTAR TERMINAL – WATERLOO STATION – Group departure desk
TOUR FINISHES:
21.00 – EUROSTAR TERMINAL – WATERLOO STATION
Click Here to Book Now