TOUR 1 :Half Day Morning Tour
THE ESSENTIAL LONDON : WESTMINSTER ABBEY, CHANGING OF THE GUARD, TRAFALGAR SQUARE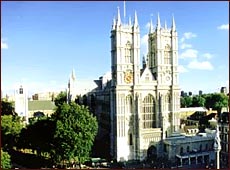 Highlights include:
Professional Blue Badge Guide
Visit to Westminster Abbey and
See the Changing of the Guard at Buckingham Palace
Big Ben
Trafalgar Square
Nelson's Column and
London's West End.
The tour starts with a professional guide showing you the architectural masterpiece that is Westminster Abbey* where Kings, Queens, statesmen, poets and writers whose lives altered the course of British history are buried, together with the hushed secrets they took to their graves… The scene of 38 coronations and 14 Royal weddings, the very walls of Westminster Abbey resonate with the pulse of Britain ! Among the many priceless treasures here you'll see the 700 year old Coronation chair, and the shrine of the Abbey's 11 th Century founder Edward the Confessor, its surface worn smooth by a thousand years of pilgrims' reverent hands. Find out who's buried standing up, and whose body was dug up, hanged and beheaded (and why!)
As the tour continues your Guide will show you other famous London sights, including Big Ben, its world-famous chimes ringing out the hours, as well as the breathtaking Gothic wonder that is the Houses of Parliament. We travel along Whitehall and Downing Street - the London residence of the Prime Minister - to Trafalgar Square, the proud Victorian centre of London watched over by Lord Nelson from the top of the 202 foot Nelson's Column towering above London's skyline.
You'll then see the Changing of the Guard at Buckingham Palace in all its colourful pageantry and ceremony set to the stirring tunes of the Regimental band - don't forget your camera! **
Back on the coach we travel through the splendidly aristocratic area of Mayfair with its exclusive clubs and restaurants, and head for the bold and brash lights of Piccadilly Circus, the heart of London's West End where cinemas, historic theatres, nightclubs, restaurants and bars jostle for space on the streets of the City reputed to be paved with gold!
The tour ends at around 12.30 in Trafalgar Square where you are free to explore the area – the National Gallery on the Square houses a unique collection of paintings by world renowned artists, or you might choose to visit St Martins-in-the-fields on the Square, where the Brass Rubbing Centre is situated.
*On rare occasions a service at the Abbey means we will be unable to make a visit. In this case we will instead visit St Paul 's or the Chapter House
**Occasionally there may not be a Changing of the Guard. On these occasions we will visit Horseguards Parade, built on the site of the jousting yard of the old Whitehall Palace and the scene of reviews, parades and ceremonies.
| | |
| --- | --- |
| DAYS OF OPERATION: | ALL YEAR – DAILY |
| TOUR STARTS: | 08:45 – VICTORIA COACH STATION |
| TOUR FINISHES: | 12:30 – TRAFALGAR SQUARE |
Click Here to Book Now